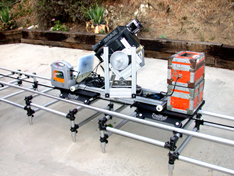 Portable, adaptable, repeatable, reliable
Imagine getting studio-style, computer-controlled camera moves in the field '€" without breaking your back or your budget! Peace River Studios, designers and builders of GyroPro™ camera stabilizers and other specialty equipment, introduces TrailRail™, a new solution for dynamic, computer-controlled camera moves.

This system synthesizes an innovative dolly structure with an on-board computer and user-friendly software so you can get smart,
adaptable motion control practically anywhere. Lightweight modular track sections enable custom-rigging for hundreds of different shooting situations. Battery operation provides cable-free, automated filming of complex camera moves for both real-time and traveling time-lapse sequences (See an example -6MB)

. A preview mode lets you check your shots before committing them to film '€" and because this system is computer controlled, moves can be repeated and adjusted until you have exactly what you want.

Automated Dolly System Offers:
Superior automated camera control.
Field or studio operation.
Smooth motion, time-lapse, or go-motion (on the fly) shooting.
Dependable and durable construction.
Modular, adjustable track for straight, curved, or combination runs.
Portability (it'€™s even back-packable).
Battery operation; no cables to trail behind.
An on-board computer to orchestrate fluid three-way moves along the linear, pan, and tilt axis (roll axis can be added).
All-in-one integrated software and hardware package.
The power to monitor, review, refine, and replicate camera moves.
Compatibility with most film, video, and still cameras from large format to mini- DV.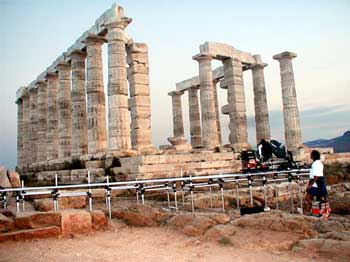 The Automated Dolly System's modular, expandable design makes it useful for a wide range of media productions. While it has been developed for work on location it can be equally appealing for studio and interior shoots where flexibility and control are needed.

Our proprietary software controls all moving components through an onboard Apple laptop computer. The system'€™s lightweight structure enables global shipping and quick field set-ups. It can even be trekked into remote locations.
Specifications
Articulated dolly camera head supports cameras up to 120 lbs.
Lightweight, 18" wide modular track comes in 6'€™ sections and can be laid to almost any length and leveled with a laser.
The supporting legs are available in various lengths and are adjustable for use on irregular surfaces.
A stepper motor provide the necessary strength and stability for smooth, precise shots
A controller operates the motor at user-defined speeds and at all accelerations.
The Automated Dolly System's stand-alone motion-control and image-capturing software can also slave to, or synchronize with, an external intervalometer that triggers between automatic camera moves while shooting motion time-lapse. The same software can control almost any type of camera including broadcast video, miniDV, digital still, or even conventional still cameras.
The dolly/camera head is completely self-contained. Motors, controllers, battery power, and laptop computer are all on board (no wires on the outside, no riders needed).
Add PixOrb™ motorized 2-Axis head for additional capabilities.
User-friendly Software
One of the hallmarks of our system is its powerful software. We developed the stand-alone motion-control and image-capturing software in unison with the hardware. Launch the Automated Dolly System program and you'll see the possibilities: capture images from a video feed or synchronize pre-programmed moves with an external intervalometer for dynamic time-lapse/stop motion shots. The images can be grabbed on the fly ("go motion") while the rig is moving or from pre-set, programmed positions during a move. This allows you to get precise, repeatable shots. This function can be used to make dry runs of a Large Format shot before committing to film, so you not only get the perfect shot, you save money in the process!